Brand strategy for institutions and nonprofits
Messaging for comprehensive fundraising campaigns
Messaging for recruitment campaigns
Williams
"Where You're Most Likely to"
Recruitment Campaign
Already, one of the top-ranked liberal arts colleges, our charge was to position Williams to compete for undergraduates against top universities. We needed to convey Strength vs. Quirky, Cosmopolitan vs. Remote and University-level vs. College-level Advantages. Underlying many of the most impressive facts and experiences about Williams is an unspoken idea: At Williams—as opposed to almost any other college or university—students are more likely to experience or enjoy particular advantages. Our strategy was to make this unspoken idea explicit.
Following this successful project, Pentagram and I were invited to develop the strategy and messaging for the college's Teach It Forward comprehensive fundraising campaign.
Design: Pentagram
Columbia
"Columbia Blue"
Recruitment Campaign
Our strategy was to move "blue" from school color to school creed. Columbia Blue means living in a city driven by the smartest, newest ideas — both ambitious and humble. Working among intellectual giants past and present inspires students to take their own giant steps. Being the most diverse student body of any campus makes life more interesting, more fun, in a word – better. Connecting students to talented and successful alumni early and often is embedded in the Columbia experience. Having intellectual confidence forever is earned through Columbia's one-of-a-kind Core Curriculum. "True blue" to all of this is the story we tell in these publications and complementary website.
Design: Pentagram
Drew

"Declare Yourself"
Recruitment Campaign
An esteemed university building on its past and intentionally remaking itself in the new higher education landscape, Drew's communications are all about the student's perspective rather than the institution's point of view. Speaking to savvy students, Drew's recruitment voice is a little irreverent, smart, sophisticated, friendly, honest, and real. Building from Drew's founding ethos of "freedom," we built a recruitment campaign calling students to "declare" their financial freedom, professional freedom, and the freedom to make their dreams come true at Drew.
Design: Pentagram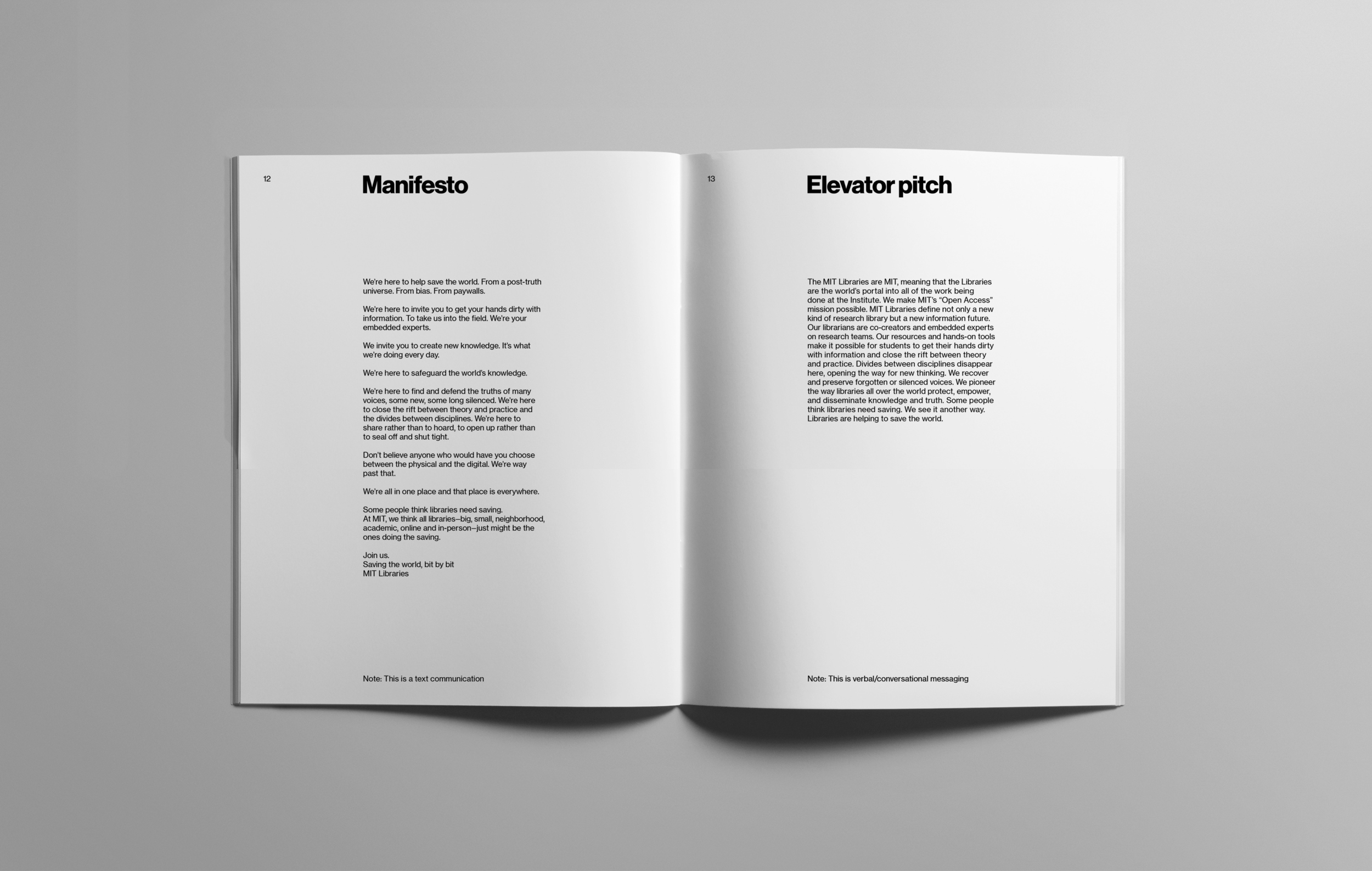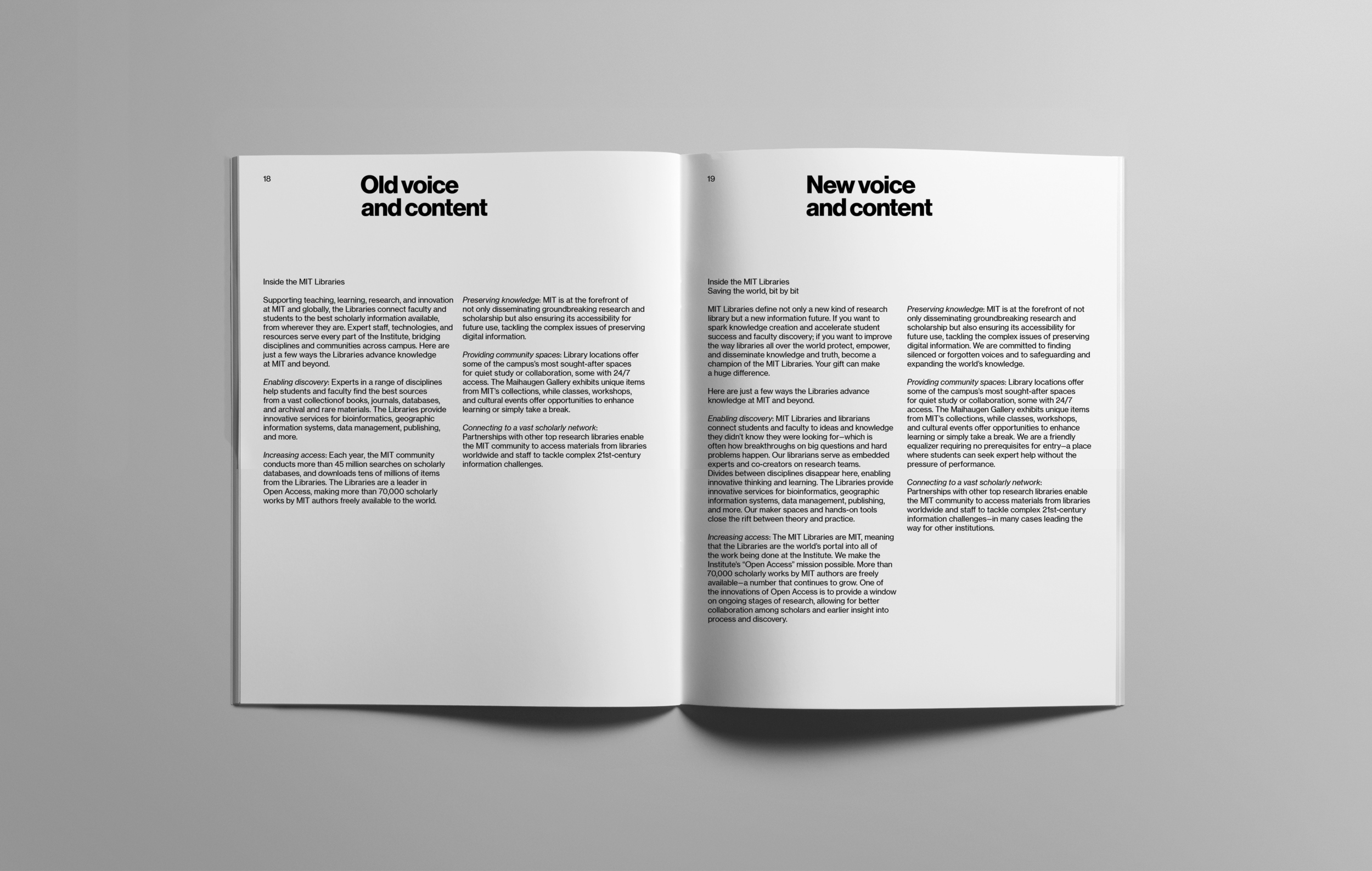 MIT Libraries
"Saving the World Bit by Bit"
Brand Identity
Pentagram Design was invited to develop a new visual identity to capture the work of MIT Libraries' Task Force on the Future of Libraries. I was asked to develop the verbal messaging guidelines to accompany the new design. The result is a communications strategy and story that upends what many think about libraries today: powerful versus vulnerable.
Design: Pentagram
Wesleyan
"This is Why"
Comprehensive Campaign
Described as an alumni body "allergic to brand" we set out to turn the bug into a feature. We embraced Wesleyan's question-the-status-quo ethos with an "uncampaign" that built from the ground up with #thisiswhy hashtags and a slow-building reveal to the campaign, which was designed to make a Wesleyan education a cause worth fighting for.
Design: Pentagram
Yale
"Yale*: An Insider's Guide"
Publications and Website
Designed to give undergraduate applicants an insider's view into Yale University, this recruitment campaign aims to make Yale more accessible to students from all backgrounds. The goal is to put every inquirer and applicant on an even footing as they explore Yale's opportunities. The viewbook (complemented by a related website) is intended to be so interesting with its dense layers of detail from an annotated map of a residential college, to an illustrated listing of all the theater, music, film, and fine arts offerings in a typical weekend, to a series of vignettes detailing students' studies abroad, accompanied by the students' own photographs — that prospects would find it hard to throw away.
Design: Pentagram
Abington Friends School
Alfred University
American Law Institute
The Baldwin School
Bowdoin College
The Brearley School
Bucknell University
Carnegie Mellon University
Cheshire Academy
Chestnut Hill Academy
China Institute
Choate Rosemary Hall
Columbia University
Concordia College
(Moorhead, MN)
Dickinson College
Drew University
Emma Willard School
Episcopal High School
(Alexandria, VA)
EXPLO (Learning through Exploration)
Flint Hill School
Fredericksburg Academy
Friends' Central School
Germantown Friends School
Girard College
The Hamlin School
The Hotchkiss School
Kenyon College
Lafayette College
Manhattanville College
Mercersburg Academy
Middlesex School
Millbrook School
MIT Libraries
New York Public Library
NYU Abu Dhabi
NYU Wagner School of Public Service
The Newman School (Boston, MA)
The Nightingale-Bamford School
Occidental College
Oglethorpe University
Oldfields School
The Orchard School
The Pennington School
Penn Law
Philadelphia University (PhilaU)
Phillips Exeter Academy
Ridley College
Roanoke College
St. Andrew's School
St. Anselm College
St. Bonaventure University
St. John's University
Scripps College
Sidwell Friends School
Spelman College
Swarthmore College
Stanford University
The Thacher School
United States Naval Academy
University of Delaware
University of Pennsylvania Libraries
University of Pennsylvania School of Nursing
Usdan Summer Camp for the Arts
Wesleyan University
Wheaton College (Massachusetts)
William Penn Charter School
Williams College
The Winsor School
The Wharton School (UPenn)
Yale-NUS
Yale University
Andrea Jarrell has led brand, comprehensive campaign, and recruitment message strategy for over 50 institutions. Her work marries marketing communications strategy with creative storytelling and has received numerous honors from the Council for Advancement and Support of Education (CASE) and Admissions Marketing Report, as well as being recognized by The Association of Boarding Schools (TABS).
Jarrell is the former director of public relations and communication for Scripps College of The Claremont Colleges, and, later, its director of development. She has worked in magazine and book publishing in New York City, public affairs in Los Angeles, and nonprofit media and government relations in Austin, Texas.
Jarrell holds a B.A. from Scripps College and an M.F.A. in Writing and Literature from Bennington College. She has contributed to several books on brand strategy and fundraising communications. Her essays have appeared in The New York Times, The Washington Post, Harper's Bazaar, The Huffington Post, Literary Hub, The Christian Science Monitor, and CASE CURRENTS magazine, among many other sites and publications. A Los Angeles native, she now lives in the Washington, D.C. metropolitan area.
Andrea Jarrell
Andrea Jarrell Communications Strategies
545 Beall Avenue
Rockville, MD 20850
Voice 301.591.3777
Email ajarrell@andreajarrell.com